Summer Gospel Performance Program Explores Roots of Style
June 3, 2022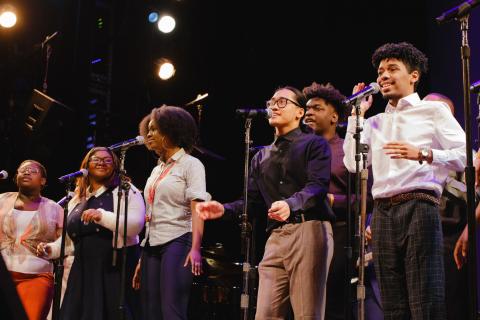 While a student at Berklee, Jonathan Singleton B.M. '87 discovered gospel music when he was given the opportunity to sub as a pianist for his peer Cyrus Chestnut '85 at New Hope Baptist Church in Boston. Singleton got hooked and soon became immersed in Boston's gospel scene, learning from musicians and peers Dennis Montgomery '88, Mark Copeland B.M. '04, and George Russell Jr. That passion has continued to grow: Today he is the musical director for saxophonist André Ward, minister of music for the Twelfth Baptist Church in Roxbury, musical director of Sharing a Song Community Chorus, and director of the Mystic Chorale Gospel concerts.
Now he's brought that passion full circle back to Berklee. Singleton, an assistant professor in the Ensemble Department, is the program director for Berklee's Gospel Performance Program, a new summer program—set to launch August 15–19 under the auspices of Emmett G. Price III, dean of Africana Studies—for young instrumentalists and vocalists both new to and familiar with gospel. The following is an excerpt of a conversation with Singleton about the upcoming five-day summer program, the importance of understanding the roots and evolution of the gospel tradition, and how gospel informs other styles.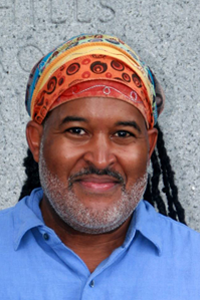 Can you tell me about your connection to gospel music?
All musical genres have sort of an emotional appeal and emotional impact, but gospel personally just had a real power to connect with me on an emotional level. As a musician, I could appreciate the harmony and technique involved, but more importantly, on a real emotional and spiritual level, the music really spoke to me.
Tell me more about this emotional and spiritual connection.
Gospel transcends the technique required to play an instrument. It's more about communicating your lived experience in a real immediate way. The most important thing is singing what you believe; your faith and your lived experience are just as important as your technique on your instrument.
How can studying gospel apply to other genres and vice versa?
You'll find elements of all kinds of styles in gospel: from rock to jazz and jazz harmony to blues and folk. Filtered through the church experience and the African American Black experience, all those styles still come out as gospel. We cast a wide net when we talk about stylistic influences of gospel, which is accessible to people, no matter what style of music they bring. There's room under the gospel umbrella for everyone, so if you're a folk musician or a rocker but you're interested in this music, you can learn the things that are unique to gospel. You can take the things you already know from your style and incorporate them to still have an authentic experience; if you take the time to understand the origins of gospel, what it really is and where it comes from, then you can integrate as opposed to appropriate.
This program is special because the music itself is special.

Jonathan Singleton
What does the integration of gospel bring to other styles?
These days you'll find a lot of contemporary gospel artists using a lot of rock rhythms or rock chords. You'll also find lots of really interesting jazz harmonies and lots of really exciting rhythmic interplay in gospel music. You'll find the composition of gospel songs is at a very high level. Not just the simple chord progressions that we used to associate with gospel but really advanced and involved harmonies. The ability to sing over and perform over these advanced harmonies was usually something that was just the provenance of jazz, but now you really hear gospel singers really sing over changes and musicians who can play over changes really effectively.
What can students expect from the program?
It will be a very exciting week of really being immersed in gospel, presentations on the culture of gospel music so you can understand its roots and how it impacts current gospel music performance. They can expect to learn about the gospel music industry and the business and how they can become involved in it, as well as instruction on their instrument. It's for all levels—from the beginner who's never studied gospel before, to begin to understand and perform gospel, to the more advanced musician, to take their art to the next level.
What does a typical day look like?
You might start the morning with our culture of music class with visiting scholar-in-residence Teresa Hairston, and move forward into some presentations by Berklee faculty and gospel musicians including Mark Copeland, Dennis Montgomery, and Nichelle Mungo who will present an aspect of gospel that they are particularly adept at. Then students will break out into smaller ensembles based on their instrument and get more focused directed instruction on how to perform gospel on their instrument. And finally, we will culminate each day with a master class with our visiting guest artist, Kurt Carr.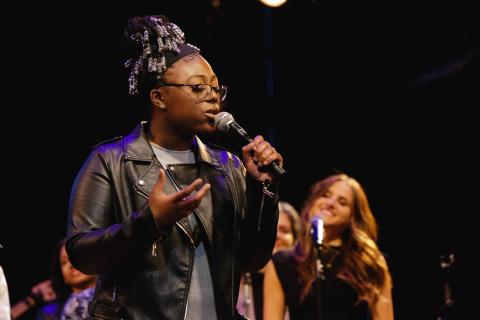 What makes this program special?
This program is special because the music itself is special. Gospel is a very important part of American music and a kind of art form that needs to be taken seriously and understood. You can come as you are and come out with a deeper understanding and a great ability to perform gospel, so the uniqueness of this program is that it's accessible to everyone. It's such an immersive week.
What can students expect to come away with?
They'll gain a deeper understanding of the history of gospel, the current business of gospel, how to perform gospel on their instrument, and how to perform gospel corporately in an ensemble setting.