Student Spotlight: Simón Martínez
April 3, 2023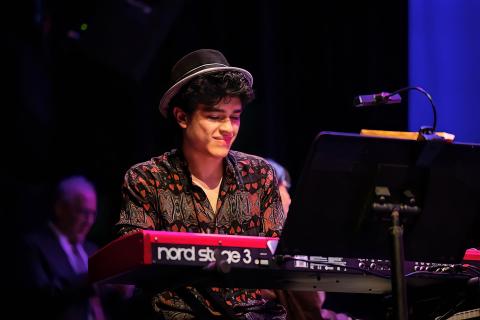 What's it like to study at Berklee? Our Student Spotlight series asks current students all about their Berklee experience—what they're learning in class, what kinds of projects they're involved in onstage or behind the scenes, how they recharge, and of course, what they're listening to. This week, get to know Simón Martínez, a fourth-semester pianist and professional music major from Quito, Ecuador.
Tell us about your path to Berklee. What made you decide to come here?
I started studying music from an early age, and getting into Berklee was always one of my biggest goals since I found out about its existence. In my adolescence I started preparing to audition, and I always tried to have a close relationship with the school. At 16, I had the opportunity to participate with a scholarship in the Aspire: Five-Week Music Performance Intensive program. From that moment on, I fell in love with Berklee, and I was even more motivated to follow my dream. When I graduated from high school I won a scholarship to study at the Berklee Global Partner in Ecuador USFQ. After two and a half years, I finally fulfilled my dream of transferring to Berklee College of Music, thanks to [a scholarship from] the Latin Grammy Cultural Foundation.
What's been your favorite class so far, and what has it taught you?
My favorite class so far has been Big Band Arranging and Score Analysis with Winnie Dahlgreen. I learned to listen to any big band arrangement and have a mental idea of what is going on regarding voicings, orchestration, composition techniques, and structure. It is the class that made me lose my fear of seeing a score with more than 10 instruments and not losing my mind. I felt like I was delving into the secrets of the greatest jazz arrangers, and, most importantly, I wrote arrangements that I am very proud of.
 

Play, write, create, and don't let anyone take away the light you carry within.

— Simón Martínez
What's a project you've worked on since coming to Berklee that you've been especially excited about?
I'm constantly working on the artist I want to be. In every small or big experience related to music, especially studying at Berklee, I try to learn anything that helps me figure out what kind of artist I want to be in the future. How does this influence my artistry? Is this what I want to do professionally? How does it make me grow as a musician and person? I've always had the uncertainty of what exactly I'm going to do after graduating. I'm a performer, composer, arranger, and singer-songwriter, and I'm looking to understand how my talents will help me fit into the music industry. That is my biggest project at [Berklee], and fortunately it's going well.
How do you typically recharge or find new ideas outside of class?
Typically, the environments that inspire me are cozy, where I can be alone. My room is always the first option, but sitting in front of a piano in a practice room doesn't fail either. When nothing is working, I need to walk. I love going to the park near my house, Fenway Victory Gardens, or to the docks near the Charles River. Looking and listening to water helps me to create good vibes, however insignificant it may seem. After a good walk, I come home full of ideas.
Watch a video interview with Simón:
---
When you think towards your own future, who inspires you most?
I'm greatly inspired by the people around me in this school: teachers, students, and alumni. Getting to know their stories and how they got to where they are fills me with energy. I used to be a very competitive person. When I first came to the Five-Week program, I compared myself a lot with the rest of the pianists. I didn't feel worthy because I wasn't at the same level as them. From that experience, I learned that I shouldn't see others as competition, but as inspiration. When I arrived at Berklee, I surrounded myself with all the people I admire musically; that way, I learn from them and grow as a musician and a person.
What's one piece of advice you'd give to your high school self?
Keep doing what you are doing! You're on the right track and every step counts towards achieving your dreams. Believe in yourself because you can do whatever you set your mind to. Learn from each mistake and don't punish yourself for them; you're human and you are still growing. Play, write, create, and don't let anyone take away the light you carry within.
Simón's Top Five Favorite Songs Right Now
We asked Simón to share five of his recent favorite songs. Here's what he said:
1. "Soñando con Quito," Alex Alvear
This song takes me back to my home city, Quito. It is one of the most beautiful pasillos I have ever heard.
---
2. "Isn't It Romantic?" Bill Evans
Bill always gives me chills. This guy is the reason I started playing jazz piano.
---
3. "Una Tarde Cualquiera En Paris (to Bebo Valdes)," Harold López-Nussa
This is the song I transcribed and played for the Latin Grammy Cultural Foundation scholarship. I will always have it in my heart.
---
4. "Sabrás," Herencia de Timbiquí
"And even though I'm going deaf, and even though I'm going blind, and even though I'm going dumb, I'll let you know that I love you."
---
5. "Soledad y el Mar," Natalia Lafourcade (ft. Los Macorinos)
Natalia is on another level. I could close my eyes and listen to her voice and her lyrics for hours.