Student Spotlight: Rachel Pac
April 18, 2023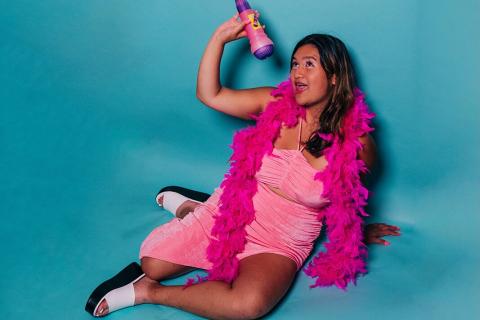 What's it like to study at Berklee? Our Student Spotlight series asks current students all about their Berklee experience—what they're learning in class, what kinds of projects they're involved in onstage or behind the scenes, how they recharge, and of course, what they're listening to. This week, get to know Rachel Pac, an eighth-semester vocalist and music education major from Houston, Texas.
Tell us about your path to Berklee. What made you decide to come here?
I first heard about Berklee when I was in middle school and my family friend would always ask what I wanted to do when I grow up. He told me that if I wanted to study music, the place I needed to be was Berklee. Later that evening I put a picture of Berklee on the cover of my journal. Then, flash forward four years later, I took part in the five-week Aspire program and auditioned for Berklee! I knew Berklee was the right place for me because of the tight-knit community within the music education program. As one of Berklee's smallest majors, and the nature of Berklee itself being a smaller school, I was really looking forward to creating relationships with peers and mentors.
Picking a favorite class...is such a hard question when you're studying something you love.

— Rachel Pac
What's been your favorite class so far, and what has it taught you?
Picking a favorite class out of my time at Berklee is such a hard question when you're studying something you love. My top two, though, and fittingly so, are probably the classes that tie together the book ends of my time in the music ed major. My very first music education class was Intro to Music Education with the late Professor Jarritt Sheel. Jarritt would end up becoming my first and closest mentor at Berklee; his class was my favorite because of how he made space for everyone in his classroom and really pulled me into involvement in the music ed major. My second favorite class is my directed study with Dr. Brian Gellerstein, analyzing the roots of white supremacy in music education. Dr. Gellerstein has inspired me in a myriad of ways. I love this class because I think it reflects the pinnacle of what Berklee prides itself on being—a progressive music education encouraging critical thinking for the benefit of everyone who engages with music in the classroom.
What's a project you've worked on since coming to Berklee that you've been especially excited about?
Jarritt and Intro to Music Education also introduced me to the world of podcasting! Our final project was to record a podcast with a music educator we admire. I recorded a podcast with my high school orchestra director, Creston Herron. I am a part of the entering class of 2019, so weeks after this final was assigned, we shut down for the pandemic. At this time was when I encountered my first explicit account of verbal racism as Asian hate arose during the peak of COVID-19; the silver lining would be that this instance would help me come up with the name of my podcast, Rachel Profiling. During this time of need for community and connectivity, I realized that my podcast would be a great outlet for this, and I have continued podcasting for the past four years—thanks to Jarritt for assigning a podcast as our Intro to Music Education final.
Listen to Rachel's heartfelt tribute to Jarritt Sheel in this episode of her podcast, Rachel Profiling:
How do you typically recharge or find new ideas outside of class?
My friends help me recharge and keep me inspired! Friends have always been the most stable aspect of my life. There is nothing that brings me more joy than spending time with them, going on walks around the Charles [River], getting a little iced coffee and catching up. Moments spent with my friends are really what makes my time at Berklee special and my heart so full. I know when I look back on my time in college, even the smallest moments of joy shared with my friends will be what I remember and most important to me.
When you think towards your own future, who inspires you most?
When I think towards my future, my peers and mentors inspire me the most. I am someone who really holds friendship and mentorship most dear to my heart, and I am incredibly lucky to have so many people who have become this overwhelmingly kind and caring support system in my life. I have so many educators who have shared words of wisdom with me; my favorite thing to do is take voice memos or notes of the things they say—I think often about my favorite thing Jarritt once told me: "Education is insurance for life." Conversations like this, from Jarritt and many of my other mentors, have helped me realize my philosophy of education. My peers in the music education major are also the people who inspire me most and really fuel my fire. I have met the most driven, genuine, and caring people in this major that I am lucky to call my best friends. They inspire me to not only be the best educator I can be moving forward but the best person I can be and uplift me where I am at every single day.
What's one piece of advice you'd give to your high school self?
If I could give my high school self any advice, I would maybe actually ask her for advice too. I have always lived by two sayings: "As long as you do your best, that's all you can do" and "Someone's gotta do it, so why can't it be you?" It was in my junior and senior year of school when I started living by these and I felt unstoppable. I had immense confidence in myself and my future. I still have confidence in my future and myself, but as I have become more immersed in education I have begun to second-guess myself more due to just everything we have lived through as a class with racial tensions higher than ever and bureaucracy in education. I would love to hear what she would say to me today and see where I'm at. I think she would be proud. Today, as a senior in college, I would tell her that there is no rush and to rest. Like many Berklee students, I'm really bad at slowing down and saying no. But I am learning to take my time and not feel like I have to do everything at once.
---
Five of Rachel's Favorite Songs
1. "How Deep Is Your Love,"  PJ Morton ft. Yebba
This is a very special song to me. My aforementioned mentor and professor Jarritt Sheel shared this song with me one day when it was just us in class on what I called "Jarritt Fridays." I had classes back to back with him, and he would show me his favorite songs and podcasts, and we would talk about how we wanted to "take over the world with our podcast."
---
2. "Summer Soft," Stevie Wonder
This is my favorite song ever. I play this song every morning when I wake up because it brings me a lot of peace. I am a pretty rambunctious person and on the go, go, go, 24/7, and something about this song helps me feel more grounded.
---
3. "We Find Love," Daniel Caesar
This is the song that helped me find my music taste! Sophomore year of high school, I discovered Daniel Caesar with my best friend from home, Brandt. He would always show me R&B songs in the car when we'd drive to orchestra rehearsal, and I was so excited to share with him this song I had found (turns out he had already heard it, but we can say we found it together).
---
4. "Nights," Frank Ocean
This is a generational song. This song makes me think of home and my best friends and late-night drives together. I used to always drive my friends into downtown Houston, and I'd keep these plastic pink and purple mics in the side doors of my Kia Soul so we could sing our hearts out on I-95 as we drove into the city to just go get boba and sing in the car.
---
5. "Finish Line/Drown," Chance the Rapper ft. T-Pain, Kirk Franklin, Eryn Allen Kane, Noname
This song reminds me of home! It has such a joy to it that makes me think of sunny Sundays in Texas. I used to spend a lot of time with one of my best friend from home's family, the Killebrews, and Papa Killebrew would always show me his favorite music. He introduced me to Take 6, Brian McKnight, and my favorite song he showed me, "Before I Let Go" by Maze and Frankie Beverly. When I showed him this song, after it was done playing, he goes "I'm gonna play it again!" Then we listened to it on the car ride home three times on repeat. Sharing music is a form of love that I love! I'm big into sharing songs that make me think of people, and I was so happy to share a song with him that I thought he'd enjoy, and he did.