Student Jackie Foster Advances on The Voice
March 26, 2018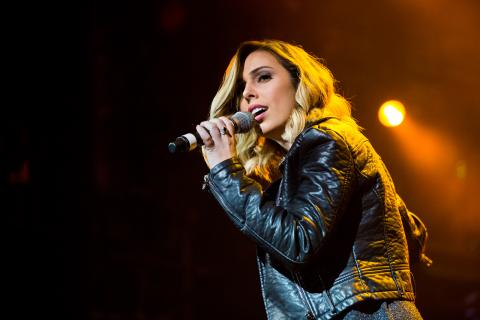 Jackie Foster didn't make it through open call when she first tried out for The Voice back in 2012, as a sophomore in high school. But this season it was the producers of the hit NBC show who called her, asking her to audition.
Foster, an eighth-semester music business/management major from California, says the producers called her "out of the blue" in September after seeing a YouTube video of her singing a medley of "Here Comes the Sun" and "Hey Jude" for a concert at the Berklee Performance Center.
Watch Jackie Foster perform "Here Comes the Sun/Hey Jude":

She had her blind audition on the The Voice on March 5 and chose Kelly Clarkson as a mentor. "She gives wonderful advice and helped my (voice) battle partner and I blend really well and work on listening to one another," Foster says of Clarkson, who also helped her in unexpected ways: "I had an awesome moment with Kelly when we were filming a rehearsal for the Battle Rounds. She heard that my duet partner and I were getting sick, so she called out her assistant on the set and had her bring out Kelly's personal stash of cough drops. ...So I have Kelly Clarkson's personal cough drops!"
Last Monday, Adam Levine of Maroon 5 was able to steal Foster for his team after she and fellow contestant D.R. King belted out a "voice battle" to the Harry Styles song "Sign of the Times." Commenting on the performance, judge Alicia Keys told Foster, "You have this gorgeous roundness and a super-powerful side of your voice, but also like a warmth that is often hard to find in a voice that occupies a higher space."
Watch Foster and King's "voice battle":

Foster says that her time on Berklee stages—and working with Voice Department faculty members Allison Beaudry, Karen Carr, and Tom Baskett—is what prepared her to be comfortable in big venues. "Ever since I walked onto the Berklee campus, I have been preparing for a moment like this." (A "Moment Like This"?)
That first time on campus was back in 2011, when Foster attended the Five-Week Summer Performance Program's Rock Workshop on a full scholarship. Two years later she returned to the program, again on a full scholarship.
"The program changed my entire view on music. It was my first time learning music theory and sight-reading. I got to work in the Berklee studios, record, and work with a band for the first time. In all honesty, it changed my life! The program challenged me but also gave me confidence in my abilities. More importantly, it gave me that foot in the door to eventually wind up as an undergrad student at Berklee in 2014," Foster says.
In 2014, she won the four-year, full-tuition Berklee Lollapalooza Endowed Scholarship, given to one outstanding musician each year who has charisma, energy, a strong interest in rock music, and who wants to pursue a performance career.
Her first semester at Berklee, Foster met the three students who would eventually become her bandmates in Self Portraits, the guitar-driven alternative rock band she leads with big vocals. What Foster ultimately wants, she told Keys on The Voice, is "to go a route where I feel I can belt my face off if I want, or sing a beautiful, tender moment." To hear her do both, tune in to see her on upcoming episodes of The Voice.