From Berklee to Hamilton: Khiyon Hursey Shares Broadway Experiences with Students
September 29, 2017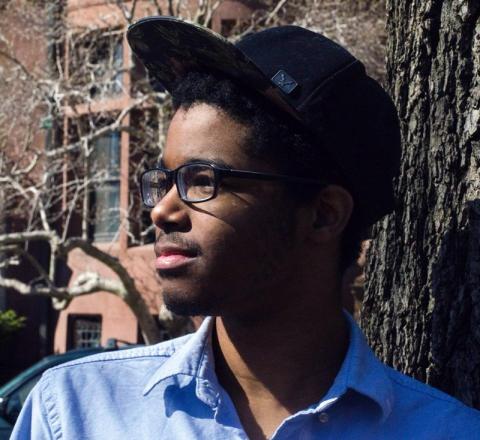 Khiyon Hursey B.M. '14, a New York City-based songwriter and musical theater composer who has worked on the Broadway productions of Hamilton and Witness Uganda, recently visited the weeklong summer Musical Theater Intensive program at Berklee. Hursey, who majored in songwriting while at Berklee, spoke to students in Boston Conservatory at Berklee's mainstage theater about his experience working on Broadway. Hursey, who received the ASCAP Foundation's Bart Howard Songwriting Scholarship and Irving Burgie Scholarship while at Berklee, has had his work featured in concert at the New York Musical Theatre Festival and he continues to write music to expand his catalogue.
The Berklee summer program students assembled to learn from Hursey clearly appreciated the clinic; at one point, they even burst into an original Hursey song, "Dreams."
"He's so nice and so talented and creative," said Liam, one of the high school students in attendance. "We're finding out so much that goes on backstage that we don't usually get to hear about."
Hursey gave students a behind-the-scenes look at what it's like to be a working professional in the theater world. Below is an edited and abridged presentation of the question-and-answer session.
---
What have you learned from Lin-Manuel Miranda that you continue to carry with you in your daily practice as a creator and as an artist?
"Lin just writes things that people connect to. And in all of his work there's an urgency. I don't think a lot of composers have that. Also, he keeps digging to get the best work; he would literally change lyrics during the show because he's trying to make it better."
How did you get to Broadway?
"In college, I interned on a different musical. There was a TED talk about some of the creators of Witness Uganda doing some of the songs from their play and I was blown away by its power. So I tweeted them and asked if I could be a part of the show when it came to Boston. Originally, I got them to do a master class here, at Berklee. Then I ended up interning for them; I interned on the show, graduated, and moved to New York to be their assistant for a while."
How did you get into Hamilton?
"So we're in New York and I found out that we were doing this benefit concert with Sting and Stephen Schwartz and all of these great people. And I realized that Alex Lacamoire [B.M. '95] was the music director. And by this point everyone in the theater community already knew about Hamilton because there was a workshop that summer and it was the greatest thing anyone had ever seen... I sent him all of the scores I was working on for my bosses. This was my first conversation with him; he went to Berklee, I went to Berklee—very normal stuff. The show went well and the next morning I emailed Alex and said, "Great show! Let me know if you ever need an assistant." And then a few hours later Alex emailed my boss and asked if I was good. My boss responded to him and BCCs me on the email. The next day, Alex asked me if I wanted to do a show about Hamilton.
I was used to using Sibelius and [Alex] asked me if I knew Finale. And I was like…"Yes!" I knew Finale but I'd never done a show or true music prep in Finale. But I still said yes. Every Broadway show goes through a copyist and there are maybe three copyists on Broadway; they use Finale. Then he said, "Do you have Ableton?" and I said "Yes!" and then I downloaded Ableton 10 minutes later. Then he asked, "Do you have Logic?" and I said "Yes!" and then I downloaded it 10 minutes later. And then I figured out how to use them!"
"I know myself fairly well; I think I know what I'm capable of. The moment you start caring about rejection, it consumes you. You can't care."

-Khiyon Hursey
How do you get past self-doubt and how do you self-motivate?
"I doubt myself a lot. And I think I'm not good, a lot. That's just a part of being an artist, and I think you just have to accept that part. I've accepted it, but that doesn't mean it's just going to go away."
Do you think there is a way to view that aspect of being an artist as a gift and maybe turn it into something useful?
"Yes. I write about it."
What is your process when dealing with rejection, preparation, and improvisation?
"I know myself fairly well; I think I know what I'm capable of. The moment you start caring about rejection, it consumes you. You can't care. If you're not a certain height, you can't play certain characters. If you can't fit into the suit, you're not playing certain characters.
In terms of preparation, as an artist and as a writer, I think I'm very open and I like experimenting in the room where the scene takes place, if possible. The people in the room can help me understand what I'm trying to express. And having people open to change is important. I told my ensemble this week that the entire excerpt is going to change a lot, and it's going to be very experimental and fun. I trust them; they're very smart and wise."
Do you have any advice for performers?
"My advice for performers is: make very strong choices. If you have an audition, I would be very confident in your interpretation of the piece. That's all you can do. And be willing to take direction."