Four Sisters from China Build Music and Performance Skills at Berklee Summer Program
October 12, 2017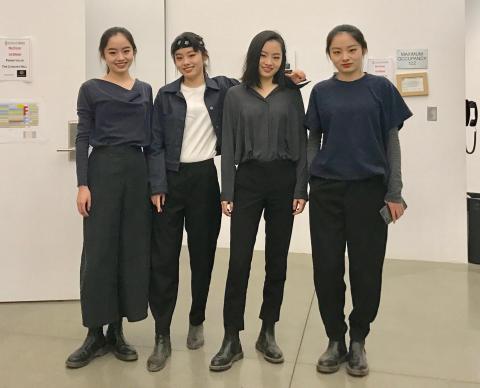 Two years ago, when the four Zhu sisters left their home in Nanjing, China, for boarding school in California, they did so with one goal: to prepare to come to Berklee by learning English. But their musical journey started long before that.
Being quadruplets, the sisters were born small, and their parents sought a way to stimulate their physical and cognitive development. The girls' mother hired four piano teachers—one for each of them—when they were three-years-old since learning the instrument "is good for our brains," says Wanyu Zhu.
The mandatory lessons instilled a love of music that inculcated in the sisters the same passion. Wanyu and her sisters Wanbing, Wanqing, and Wanjie, all came to Berklee's Five-Week Summer Performance Program this year. The program inspired them to push further in their music. At Berklee, Wanyu said, "Everybody has their dreams and passion."
Each sister is hoping to attend Berklee as an undergraduate starting next year, after finishing high school in California. They hope to eventually return to China to be a force for change in the music industry there, whether that change is bringing Western ideas to Chinese music education or to innovate in the industry at large.
"The market in China is really big and we really need overseas people to influence it who studied abroad and got the knowledge and the ability," says Wanjie.
Celebrating Individuality and Collaboration
But though their lives have pursued parallel paths thus far, the quadruplets say they are four distinct people and struggle to be seen as such. "Sometimes we don't like being quadruplets," Wanyu says, adding that they each have their own characteristics. Wanqing put it this way: "We want people to pay attention to our work as individuals."
That said, being a quadruplet has its advantages. Firstly, people notice you. As children, the girls were minor celebrities in their city. Even this summer they were asked to be on a national television show but turned down the offer because they wanted to focus on their studies in the Berklee program.
Secondly, the foursome enjoys an incredible bond. They feel this most intensely when performing together. The sisters formed their own band—Wanqing on piano, drums, and bass; Wanbing on vocals, piano, guitar, and cajón; Wanyu on vocals, piano, and guitar; and Wanjie on bass, drums, piano, and vocals—with a synergy that few other bands can match.
"I think we have more power compared to one person," Wanqing says. "When we rehearse we feel that power is really real, really strong… and we never feel lonely."