Cory Henry Inspires Summer Performance Students
August 16, 2016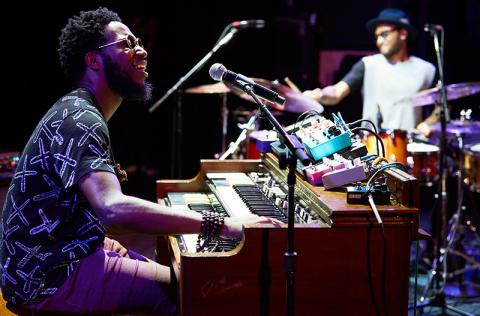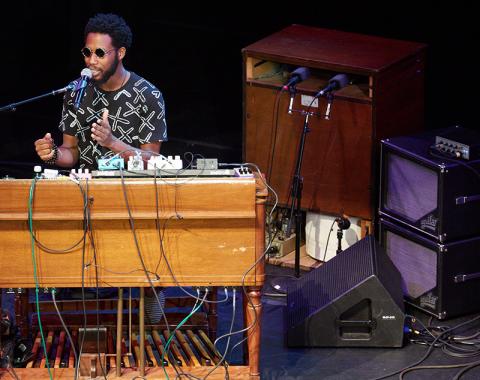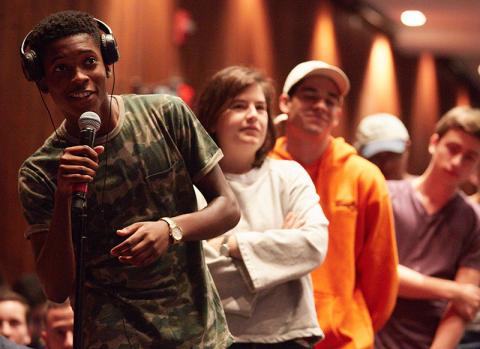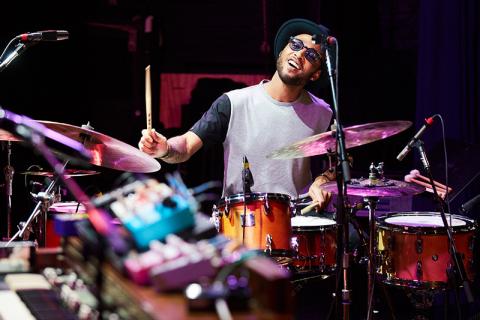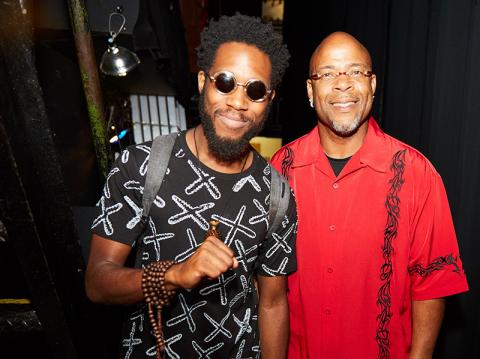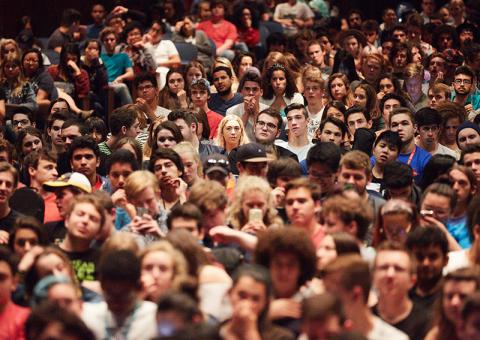 Since the age of 2, Cory Henry has explored the Hammond B-3 organ with a boldness that has drawn praise and, increasingly, fascinated listeners. Best known for his Grammy-winning work with instrumental jazz fusion group Snarky Puppy, Henry has also performed with everyone from P. Diddy to Bruce Springsteen. Earlier this year, Henry released a live solo album, The Revival, that deftly blurs the lines between gospel—Henry's musical starting point via countless hours performing in church—and jazz, with NPR noting that "his musical charisma is a match for a nearly 400-pound organ."
That charisma was clearly evident when Henry recently came to the Berklee Performance Center as a visiting artist to speak with—and share music with—students in Berklee's Five-Week Summer Performance Program. Joined by talented drummer TaRon Lockett, Henry drew the packed auditorium to its feet with one of The Revival's most engaging songs, "NaaNaaNaa," while mixing in several improv jams and occasionally teasing out melodies from well-known songs such as "Chameleon" and "Wade in the Water."
Watch the music video for "NaaNaaNaa" by Cory Henry:
In between performances, Henry shared his outlook on the performing musician's life with the summer students and responded to their questions with words of experience. Below are edited and abridged insights from Henry's talk with the students.
On Music as Language:
"I'm really just speaking the language of the music, and it comes from studying—the same way we have learned English and been able to adapt to culture and change the way we talk. If you take II-V-I changes or you take certain changes that come around and around, like 'Giant Steps,' it becomes, 'Okay, I know how much more I can play over that and I know how much more I can say about this based on the information that's already there. I try not to divide it up. I'm just kind of speaking, and speaking, and speaking."
On Ear Training:
"When I hear a tune or a piece of something I really like, my ears go to that one section and piece it together. In my learning stages, I was always worried that the things I was playing weren't going to translate in church, because that was the only place I was able to play. It made my ears pay attention to the details, so that when I got introduced to Oscar Peterson—he has this version of 'Take the 'A' Train' that's in 6/8—I played part of that over "How Great Thou Art," and one of the mothers in church was like 'Yeah!,' and I was like, 'What? You like that, too?' So I will listen to one record every day; now I've been listening to a lot of Marvin Gaye, or Michael Jackson, and I really pay attention to each part."
On Finding Your Voice:
"Making your own voice is a constant development process. You have to transcribe people that you learn from. That's how you can see what you want to sound like when you have a chance to say something. The people that have voices of strength that we like listening to have respect for what happened before them, and then try to do their own thing on top of that."
On the Endurance of Jazz:
"It's hard to sell jazz to a younger audience, but then you have people like Kendrick Lamar. He's got Terrace Martin playing sax all up and down that record [To Pimp a Butterfly], but that's one guy in the mainstream that's sounding very jazzy. But, that shows us that we can do it if we stay true to the music itself, no matter how it sounds. If that's your passion, then jazz will live forever."
On Frustration in Practice:
"It's going to happen. The one misconception about the stage you might see today is that there is no pain in process to these lights. When it comes to practicing, you're going to feel frustrated at times. What I would suggest you do when you feel that way is find a way to make practice fun. If the way that you're doing it is bringing you to a dead end, that's your mind saying, 'Okay, that's enough of this one thing.' Find a different way to practice. Your practice habits will make your performance and playing better, and then you'll spend less time feeling frustrated and more time trying to grow."
When the clinic concluded, Five-Week student vocalist Karlea Boswell-Edwards from Tampa, Florida, who will be starting at Berklee in the fall with a scholarship, was inspired. "I think I'm going to have to go home, listen to a lot of his stuff, and transpose it," Boswell-Edwards said, smiling through to a laugh as she thought about her self-imposed homework assignment. "He does some out-there stuff and some pretty amazing things, so I just have to study it."
See profiles of Boswell-Edwards and other Five-Week students.