Beyoncé's Background Vocalist Shares Life Lessons from the Road
August 27, 2015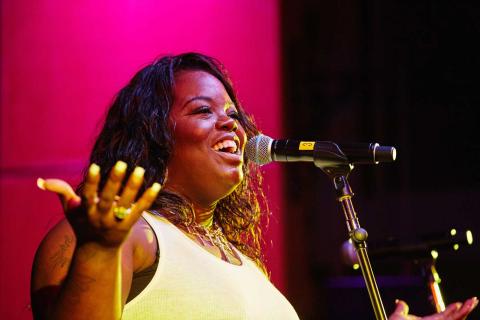 Crissy Collins landed her coveted spot in the Mamas, Beyoncé's all-female trio of touring background vocalists, because she made the superstar laugh. When Kim Burse, Collins's friend and Beyoncé's creative director, sent her to New York to back Beyoncé at a charity show, she ended up introducing the band. Collins did it with her typical goofy flair, dancing around the stage as fans blew her hair and the feathers of her costume around. When she noticed Beyoncé and Jay-Z laughing off stage, she figured she was doing something right, and she was; Beyoncé subsequently invited her to stay on as one of the Mamas, and in that role, Collins has toured the world for the past 10 years.
Brought to Berklee as part of the Five-Week Summer Performance Program—in conjunction with the Office for Diversity and Inclusion, the Office of Alumni Affairs, and Carl Beatty, Berklee's  associate vice president of artist and music industry relations—Collins took the stage at David Friend Recital Hall on August 5 for her master class. For two hours, the rapt audience listened to her plethora of tips, tricks, and anecdotes about surviving and thriving in the music industry as a singer-songwriter and performer. Collins also treated them to a half-dozen songs, starting with "My Funny Valentine," which beautifully showcased the power and range of her voice, and she teased and encouraged them to sing along with her. She was accompanied by a student ensemble led by percussion professor Tony "Thunder" Smith on drums and special guest Amy Bellamy on keyboard. 
Collins talked about her career trajectory, drawing laughs over tales of falling asleep in the filing room of a 9-to-5 job she hated and discovering edamame from Beyoncé, who was eating it the first time they met (Collins joked that she thought the superstar was snacking on leaves, and she offered to share her Chinese food instead). With her impressive resumé, which boasts a list of collaborators including Tyler Perry, Luther Vandross, and Gloria Gaynor, to name just a few, Collins probably surprised many in the audience by revealing that she didn't always plan to be a singer and only came to it in her late 20s.
"I stayed totally open to everything," she said, emphasizing her love of learning for music and business, and how critical that attitude is for success. She also explained the need to "show yourself friendly"; that is, avoid being snobby, or thinking you're above anyone or owed anything as you make your way in the industry. "There's no such thing as a small-time artist," she said, noting that each impression you make matters to your future work.
Calling musicians an "eclectic" group, Collins didn't sugarcoat the more difficult aspects of the musician's life, from frequently being on the road to watching out for dishonest managers and con artists, what she referred to as the "barracudas" of the industry. She emphasized that although she may have won her place in the Mamas due to her personality and voice, she has kept it due to her willingness to "be a chameleon" for her work. By way of example, she demonstrated how she can morph her voice from one sound to another by transitioning fluidly from Adele's "Rolling in the Deep" to Tina Turner's "Proud Mary" to Rihanna's "Diamonds." Although she owned each song, the echoes of the other singers resonated beneath her performance.
Collins took on a more serious note when discussing the necessity of a backup plan. She polled members of the audience about their own alternative plans while at the same time encouraging them to go hard for their dreams and surround themselves with people who understand and support what they do. She also specifically advised vocalists about opening up and caring for one's voice. Collins's secrets? Peppermint or eucalyptus oil in a humidifier, singing opera, and getting lots of rest.
Collins ended with her version of Outkast's "So Fresh, So Clean," inviting a half-dozen students in the crowd to improvise with her. She had said earlier, "We all have a story," and she held open the door for a new group of talents to start telling theirs.
Watch Collins and Niya Norwood perform Beyoncé's "If I Were a Boy" at a Berklee concert featuring the singer's original all-female band: