Berklee Announces First Gospel Summer Program
November 14, 2019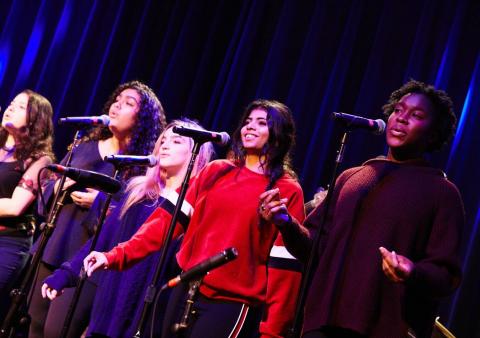 The Berklee Gospel Performance Program will be a five-day curriculum for gifted gospel vocalists and instrumentalists, bringing together the traditions and history of gospel music with its modern-day influence and cultural relevance. The program will run August 17–21, 2020, for students aged 15 years and older.
"Gospel has a unique power to reach beyond the church walls and be more than just entertainment; it can be a powerful, uniting, joyful expression of love," says program director Jonathan Singleton. "The harmonic, melodic, and rhythmic structure of gospel has provided much of the underpinnings of today's popular music. So many artists, from Kanye West, U2, and Tori Kelly to classic artists such as Madonna, Ray Charles, and the Beatles have incorporated gospel harmonies and rhythms into many of their hits."
Along with the experience and talent of Berklee's faculty and staff, participants will have a chance to learn from two of the gospel industry's major players, Donald Lawrence and Teresa Hairston. Lawrence, a multiple Grammy and Stellar award winner, has served as vocal coach to the R&B group En Vogue, as musical director to Stephanie Mills, and has collaborated with artists including Peabo Bryson, Kirk Franklin, and Mary J. Blige. Hairston is the founder and publisher emeritus of Gospel Today magazine, the official publication for many leading gospel organizations and artists.
These guest instructors, along with Berklee faculty and staff, bring their experience and knowledge to the program's five-day curriculum, which includes lessons in music and gospel history, performance and ensemble rehearsal, and evening social activities for the participants. The program will feature a final concert on Thursday, August 20. Students will perform the repertoire they have been rehearsing throughout the program, and the performance will be free and open to friends and family. 
"We hope to provide a foundation in the roots and origins of gospel and to develop performance skills in gospel such that musicians at any level can significantly increase those skills and become better practitioners of gospel music," says Singleton. "The program will also be a channel to help gospel musicians develop more significant connections to the gospel music industry."
For more information on this program, please visit the Berklee Gospel Performance Program online. Registration is now open, and the deadline is July 1, 2020.