Berkeley to Berklee, Bluegrass to New Jazz: Summer Student Prepares for a Life of Music
March 9, 2016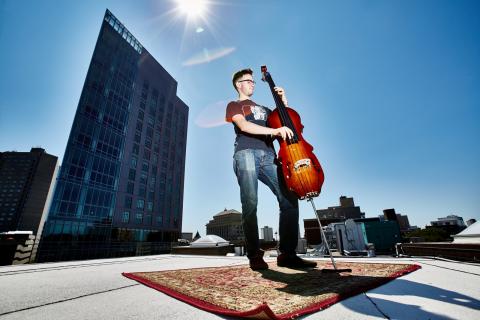 This past summer, bassist Max Schwartz came from his home in Berkeley, California, to study as a student in the Five-Week Summer Performance Program with a plan as well as an open mind. A 17-year-old about to enter his senior year of high school, Schwartz knew that the program would help him carve a path toward being a career musician.
And yet, Schwartz is far from a typical high school senior. When he arrived at the Five-Week program, he had just flown in from a two-week tour of Europe as part of the the California Jazz Conservatory's Jazzschool Studio Band, playing top-notch jazz festivals in France, Switzerland, and Italy. And on the heels of the program, Schwartz was invited to play with Laurie Lewis and the Right Hands at the Hardly Strictly Bluegrass Festival in San Francisco.
So, when he said of his plans to attend a Berklee summer program, "I want to make sure I'm in the best musical situation for the various things I want to do," you know he's not messing around. In that sense, he wasn't surprised how much he strengthened his craft through working closely with Berklee faculty such as Bruno Raberg, Lauck Benson, and Daryl Lowery.
A World of Music in One Zip Code
What he didn't expect was how much of the world would open up to him just walking down the sidewalk. "One of the best things about being here—and it was a little bit shocking—is that you walk past 10 languages on the way to class," he said. "There's so much culture here. I've been jamming with some people from the Dominican Republic, made friends from Israel, Mexico, Puerto Rico. I just keep learning about people's musical backgrounds."
Watch an 11-year-old Schwartz perform 'California Cottonfields' with his bluegrass band OMGG
(Blue)Grass Roots
For Schwartz, enthusiasm for cross-genre expression comes naturally. He first picked up a stringed instrument (a guitar, in this case) at the Father's Day Bluegrass Festival in Grass Valley, California, when he was in first grade, and he knew right away he wanted in. At the time, his father and brother were learning instruments, and before long, a family bluegrass band had emerged and Schwartz was gigging and recording.
It may seem an odd genesis story when you look at where the bluegrass-pluckin' Schwartz has traveled since, as he's landed top gigs as a bassist for the SFJAZZ High School All-Stars Orchestra and Combo, the CBDA California All-State Jazz Band, and the Grammy Jazz Combo.
An Open-Ended Process
"It's two separate vibes," he says of his jazz and bluegrass predilections. In his own compositions, however, those vibes come together in innovative ways, as a brief scan of his Soundcloud page will prove. For example, he might combine the simplicity of a bluegrass melody with the complexity of a jazz harmony, and end up with something that sounds more like funk. "I try not to get in my own way, and let the song be what it is," he says of his process, and it's that attitude that allowed him to take so much from his summer experience at Berklee.
"There's so much value in the progression of writing music," he said, and being at Berklee gave him the chance to see "just how much music is out there that I'm not aware of. There's so much to be discovered and so much to learn."